About Yitzi and the Giant Menorah
I wrote the story for Yitzi and the Giant Menorah several years ago, around the time that I was writing my other Rachel books, but it sat on my computer for quite a while because I was busy researching and writing Time Snatchers and Time Trapped. It was only when I emerged from the time – space vortex of those two books that I began to focus on writing and illustrating another picture book.
I wanted to challenge myself with creating the art for this book – so I tried a different art technique called watercolour monoprinting. I had learned this technique the summer before by taking an intensive week-long course at the Haliburton School for the Arts. Basically, it's a printmaking technique where you paint on glass and then, with the help of a printing press (or the back of a wooden spoon), the image is transferred from the glass to a piece of watercolour paper. The effects that you can get using this technique are quite dazzling!
The tricky part is that when printed the final image is the reverse of the way I painted it… so I had to plan for that. A couple of times I forgot – e.g. the Hebrew letters on the dreidel came out backwards and on the third night of Hanukkah the candles on the wrong side of the menorah had been lit - but luckily my publisher was able to help me out using some digital magic!
The title for the book was "Yitzi and the Silver Menorah" until I realized that it was boring to paint a gray menorah – I much preferred a purply pink one! So, since I'm on friendly terms with the author most of the time, I asked and he (i.e. me) agreed to change the name!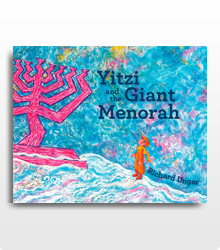 Published by Tundra Books
ISBN: 978-1770498129
• Yitzi and the Giant Menorah by Richard Ungar. Copyright © 2016 by Richard Ungar

Excerpted by permission of Tundra Books. No part of this excerpt may be reproduced or reprinted without permission in writing from the publisher.